Triple River Crossfit – CrossFit
Warm-up
Perfect BB Warm-up (No Measure)
With an empty barbell perform 15 seconds at each movement until all are complete without putting it down. Rest 1-15 second interval between rounds.
Dead lift

Hang clean

Front squat

Strict press

Push press

Push jerk

Overhead squat

Rest
Skill
TRCF Clean Warm Up (No Measure)
3 Rounds of the Following:
5 Halting Clean Deadlifts (3 second pause above knee)

5 Clean Pulls

5 Power Cleans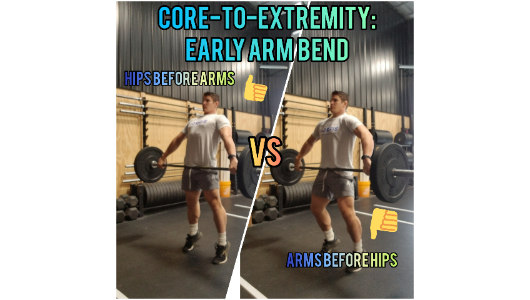 Increase your power in the olympic lifts by extending your hips fully before pulling with your arms.
Metcon
Metcon (AMRAP – Rounds and Reps)
10 minutes to practice this complex at a moderately heavy weight:
8 Deadlift

6 Power Clean

4 Front Squats

2 Split Jerk
Rest 3 minutes
5 Minute AMRAP of above, 45/35
Cool Down
Cool Down 5 (No Measure)
Overhead Tricep Stretch, 1 minute each.

Pigeon Stretch, 1 minute each.